Incontro al futuro
L'innovazione prima dei pasti - Internet of Things
---
giovedì 26 aprile 2018 - Dalle 18
---
ORGANIZZATO DA One Stop Shop e BaLab Università degli Studi di Bari Aldo Moro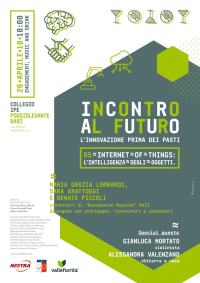 IN COLLABORAZIONE CON Bosch, Brecav, Confindustria Bari e Bat, Confindustria Puglia, Confindustria Taranto, CuboLab, Digital Magics, Ernst&Young, Exprivia, Finindustria, Distretto Leo 108 AB Puglia, Distretto Produttivo dell'Ambiente e del Riutilizzo, Distretto Produttivo della Meccanica Pugliese, Distretto Produttivo Puglia Creativa, Impact Hub Bari, Item Oxygen, L'Arancia, MatchUp – Giovani Imprenditori Confindustria Bari-BAT, Serveco, Tecnopolis, Telenorba
CON IL SUPPORTO DI Neetra, IPE Poggiolevante, Vallefiorita
Quinto episodio degli incontri tra aziende pugliesi, dedicato all'Internet of Things, l'intelligenza degli oggetti
Maria Grazia Lombardi, Sara Grattoggi e Renato Piccoli, conduttori di "Buongiorno Regione" RAI3 dialogano con startupper, ricercatori e innovatori
Special guests: Gianluca Mortato, violinista e Alessandra Valenzano, chitarra e voce
SEDE E CONTATTI
Si accede esclusivamente per invito
Collegio Universitario di Merito IPE Poggiolevante
via Orfeo Mazzitelli, 41 – 70124 Bari
tel. 08.05.04.21.54 – info@poggiolevante.it
RESOCONTO
Introdotti dai giornalisti e intervallati dai musicisti, ogni tre minuti hanno parlato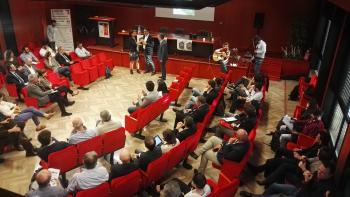 Ing. Nino Loizzo – Plant Manager BAWER
BAWER realizza prodotti in acciaio, ad alto contenuto di tecnologia e di innovazione, destinati ai mercati dell'AUTOMOTIVE, del MEDICALE e del MUSEALE.
Domenico Colucci – start up Nextome
Nextome è un sistema di posizionamento e navigazione indoor; il sistema funziona interfacciandosi con i dispositivi beacon che comunicano via bluetooth, quindi senza un collegamento wifi
Apollonia Lippolis – CEO Resolteam
Sistemi di sicurezza e vigilanza applicati a più settori
Marco Pennelli – CEO TechnoSec
TechnoSec è riferimento per le tecnologie Internet of Things e Cloud applicate ai settori industriali.
Prof. Franco Silvestris – Policlinico di Bari
IoT applicato all'oncologia medica
Prof. Castellano – Apuliabiotech
Apuliabiotech è focalizzata sul Trasferimento Tecnologico nel settore eHealth, in particolare nei campi delle Biotecnologie e dell'ICT, per favorire la prevenzione e la cura delle malattie croniche mediante l'applicazione di nuove tecnologie.
Gianni Piccininno – ITEM Oxygen
L'azienda ha sviluppato H@H hospital at home, sistema di telemedicina web-based che garantisce il monitoraggio continuo dei parametri fisiologici del paziente domiciliarizzato e la terapia permettendo l'interazione tra operatori sanitari e pazienti attraverso la videocomunicazione.
Mariangela Romanazzi – Responsabile Marketing Optip (Predict)
L'esperienza di PREDICT nel settore medicale ha consentito all'azienda di sviluppare HoloHealth, l'applicazione che, a partire dal sistema di Optip porta la realtà aumentata in numerosi ambiti della medicina, come la deospedalizzazione, la sala operatoria e l'ambulanza.
Dott. Sisto Gianpiero – Direttore Generale Medinet S.r.l.
Medinet Srl opera nel settore della ricerca, sviluppo e distribuzione di materiali, prodotti ed apparecchiature ad uso medico.
Damiamo Petruzzella – Istituto Agronomico Mediterraneo
Internet of Things applicato all'agricoltura
Luca Laera – Fincons Group
Società di IT Business Consulting e System Integration che opera sul mercato internazionale; con il Delivery Center con sede a Bari il Gruppo propone il proprio modello di IT Service con un approccio Smart-shore intelligente, flessibile e sostenibile.
Alessandro Carucci – CEO SmarTARGA
Targa intelligente per prevenire e porre riparo ai danni da parcheggio
Vincenzo Russo – MAT2B Srl
Spin-off di Alumni Mathematica. Promotori del Campionato Universitario Makers, il primo torneo italiano di realizzazione di progetti dell'Internet of Things (IoT) del mondo Maker.
Hanno chiuso le relazioni Roberto Lorusso, Presidente di Neetra, sponsor dell'evento e Gianluigi De Gennaro, del BaLab dell'Università di Bari che, insieme ad Annalisa Turi e Annamaria De Marinis promuove gli "Incontri al futuro".
La serata si è conclusa con un aperitivo che è stato, come al solito, l'occasione principale di scambio di informazioni, contatti ed esperienze.