Trasformare le difficoltà in risorse: CroSS Corso sulle soft Skills
Corso interno della Residenza del Levante per l'anno accademico 2013-2014
02/04/2014
Cross, che, nel linguaggio sportivo, è alzar la palla per poterla deviare, ben si adatta a un corso di formazione sulle qualità umane. "Trasformare le difficoltà in risorse" era ed è il tema del corso interno della Residenza del Levante per l'anno accademico 2013/2014, da cui è scaturito il progetto ambizioso di invitare gli studenti baresi ad arricchire il proprio curriculum con le soft skills (Corso sulle Soft Skills).
L'Unione Europea lo raccomanda (n. 2006/962/CE) e le aziende lo richiedono. La vita lo impone, potremmo aggiungere: all'università acquisiamo competenze tecniche, che, nel lavoro, sono solo una parte dei risultati attesi.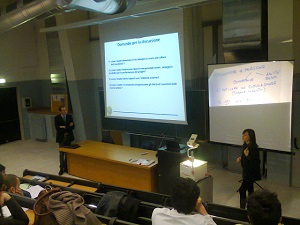 La Residenza del Levante ha promosso, da qualche mese, un tavolo di lavoro, intorno al quale si sono seduti, insieme ad alcuni studenti, docenti universitari, dirigenti d'azienda, imprenditori. Si è stati d'accordo su un punto: in ufficio, in fabbrica, in laboratorio, in studio, con colleghi e superiori, con clienti e fornitori, occorre sfoderare capacità relazionali, doti di tenacia e di elasticità caratteriale, di disponibilità e di ascolto, di capacità di leadership e di accettazione di obiettivi suggeriti. Chi più ne ha più ne metta. Le soft skills, appunto.
Il progetto, presentato ufficialmente all'Università e al Politecnico, ha suscitato un grande interesse e molte domande di partecipazione. Si è potuto, giocoforza, selezionare, quest'anno, una "classe" di 25 laureandi, laureati, dottorati e dottorandi. Criterio preferenziale è stata l'interdisciplinarietà. Le scienze rappresentate erano mediche, ingegneristiche delle più diverse specialità, biologiche, chimiche, legali, economiche ed archeologiche…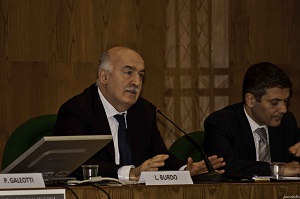 Il
21 febbraio il corso si è inaugurato alla Camera di Commercio
. Tra gli altri è stato presente
Lorenzo Burdo, direttore generale dell'Ipe
, che ha fornito dati interessanti – e alquanto preoccupanti – sull' ingresso nel mondo del lavoro. Le sessioni, itineranti, sono proseguite, venerdì dopo venerdì, in
Bosh
, al
Policlinico
, in
Getrag
, in due laboratori di ricerca (di Endocrinologia e di Chimica). E ancora in
Massmec
e in
Ilva
. In strutture pubbliche e in strutture private, sono stati affrontati i temi del
"stakehokder management and satisfaction",
del
"customer satisfaction"
, del
"teamworjking", del problem solving and decisione making"
. E' emerso ben chiaro, tra l'altro, che la conoscenza dell'inglese non fa più curriculum, perché scontata. Le riunioni hanno visto approfondimenti teorici del tema previsto e il loro vissuto nella struttura visitata, nonché in esercitazioni dal vivo. I corsisti hanno dialogato con passione e intensità con le massime dirigenze aziendali e istituzionali.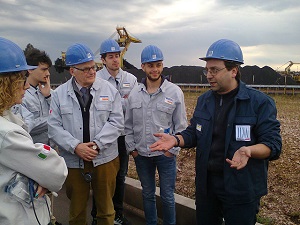 La conclusione del corso? Relazioneremo sul prossimo numero. In un clima di amicizia è risultato, finora che la crisi c'è e che trovare il lavoro è difficile. Ma anche che è d'obbligo porsi l'obiettivo dell'eccellenza, (non del successo fine a se stesso, perché sa di disvalore). Eccellenza vuol dire puntare alto. Sapere, ma anche essere e dare il meglio di sé, in una weltanshaunng di dignità della persona, di rispetto degli altri, di contributo reale al bene di tutti e della società. Che è il significato più profondo del lavoro.
Paolo Galeotti